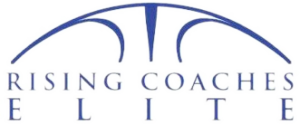 Rising Coaches Elite is an organization for college coaches by college coaches.
Founded in 2010 by then-members of the Clemson support staff, the group has grown tremendously the last couple years.
The Rising Coaches aim to support people in the college basketball community in advancing their careers and getting their dream jobs.
The third annual Rising Coaches Conference took place here in Las Vegas in July, 2012, and I fortunately had time to attend the Wednesday session.
Northeastern head coach Bill Coen led off the respected group of coaches who were generous enough to take the time to speak to the roughly 80 people in attendance.
Coen took a personal development approach. He stressed the importance of having clarity on your values and knowing what you stand for.
He emphasized that if you're a support staff member, your best chance of moving up is with your current program because those people already believe in you.
I found Coen to be relatable because, like me, he started in the professional world as a software engineer.
UNLV head coach Dave Rice took the microphone next.
He spoke about the importance of education and finding a mentor. He echoed Coach Coen's earlier words about there being no road map for success in this business.
I agree strongly with Rice's point that you need to do something to differentiate yourself.
This lesson was one I had to learn the hard way when I first started out as an entrepreneur, and a lot of people get tripped up on it.
While it's important to make your boss happy (if you have one), you still have to focus on giving unique value.
You also have to remember that those two things are not mutually exclusive.
Kent State's Rob Senderoff spoke next, telling attendees to always ask themselves the question, "What can I do to help?"
He too supported Bill Coen's suggestion that the most important relationships are those in your current program and community.
Louisville assistant Kareem Richardson made one of my favorite points in his presentation.
He told the audience, "Be indispensable to the point where your boss doesn't have to tell you to do things."
I love that advice for anyone in any field or work situation. Being proactive is one of the best ways to differentiate yourself in the way Dave Rice suggested.
After lunch, Dana Ford from Illinois State presented to start the afternoon.
He talked about the importance of being both relentless and intelligent with the actions you take on a day-to-day basis.
Ford continued to stress how much sacrifice and persistence is necessary for succeeding in this profession. It's certainly not for the faint of heart.
Purdue head coach Matt Painter spoke directly to the attendees who didn't play basketball at a high level, telling them, "If you didn't play, it's an advantage because it gives you a different perspective."
I found this point comforting, as I didn't play in college.
I also believe that taking full advantage of your perspective means turning things that could be perceived as weaknesses into strengths.
SMU's Jerrance Howard spoke briefly before introducing his head coach, Larry Brown, a man who probably didn't need an introduction.
Brown's passion for the game and community were obvious as he reflected on his career.
He believes that accountability is one of the most important principles in having a strong coaching staff and program.
Louis Reynaud from Rice came armed with notes, which he distributed to everyone in attendance.
His theme is service. He has a strong feeling for the sense of community in this world, and service drives it.
The final speaker I got to see was Cornell Mann from Iowa State.
Speaking in similar terms as Coach Reynaud, Mann believes that caring is crucial in this field.
To Mann, that means caring about everyone: your boss, your co-workers, your players, your alumni, etc.
I had to take off at that point to start watching games, and unfortunately wasn't able to attend the Thursday morning session either, headlined by Dan Tudor.
Such is life as a scout.
I loved the conference and I feel like I got a lot out of it.
There were times where I felt encouraged that I'm doing the right things, and other moments where someone shared a suggestion that I'll be trying in my own life and career.
Both of those aspects are important to me.
I wish I had more time to talk with the attendees there. With tournaments to cover and a busy lineup of speakers, there simply wasn't much time to go around. It would have been easier for me if the event started a day earlier.
Rising Coaches Elite is providing a wonderful and necessary service for those in the college basketball community. They're helping a lot of people build a strong background in this world.
I'm definitely looking forward to next year's events, as this group of coaches is one to keep your eyes on.